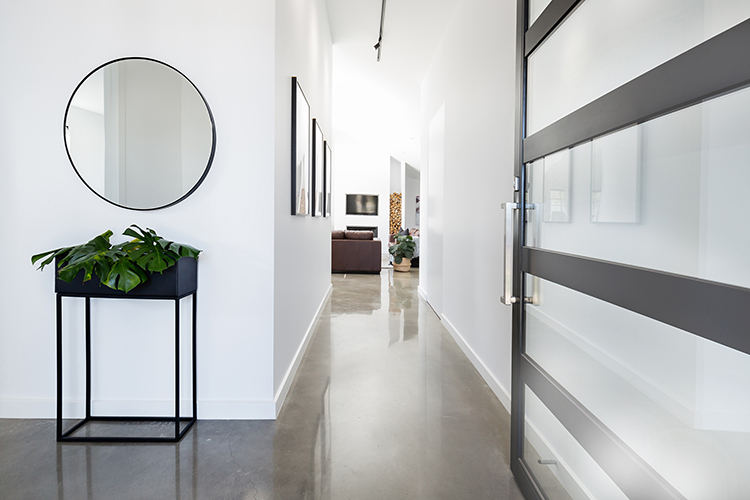 Polished Concrete Flooring (What You Need To Know When Choosing The Best Flooring Option For Your New Home)
18/01/2022
Polished concrete is a cost-effective flooring option that has become more popular in residential homes over the recent few years. With concrete flooring you will find that prices vary depending on the type of finish you're after. Once you have made your finish selection, the price will then be determined by the square meterage of your modular home. Concrete flooring in the long run will save you money on repairs and maintenance most other flooring options will require over time.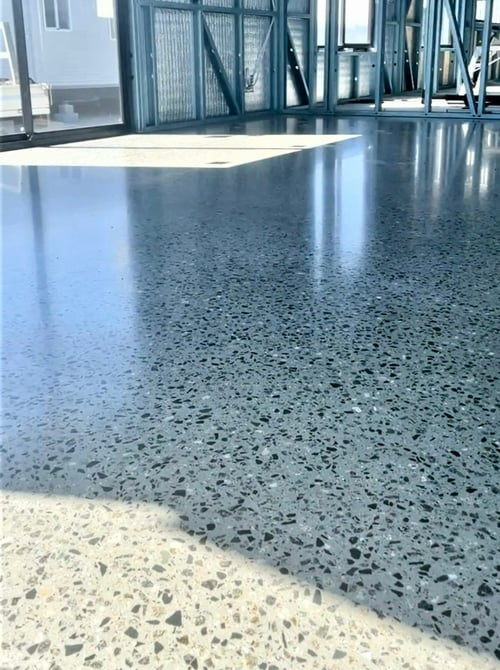 Can I have polished flooring in my modular home? Yes, quite easily! However, we strongly recommend you do some research and understand the different concrete finishes you can have (it is best to check them out in person in a display room). If you are wanting to upgrade to polished concrete for your modular home, this needs to be addressed from the very beginning to ensure we can achieve the best result for you.
Is polished concrete slippery? As a rule, polished concrete is slip-resistant as is. However, adding water to any hard flooring will make it slippery so, it is best to clean up any spills and mess immediately.
Addressing the cons of concrete flooring:
Concrete flooring doesn't retain heat very well so it can be quite cold especially during the winter.


It is unforgiving to dropped objects or falls so it may not be the best choice for young families or clumsy homeowners.
It's not very comfortable under your feet. You may need to bring in rugs to make the space feel cozier.


Adding in rugs will also help reduce the noise of concrete floors which can be another concern as it does not absorb sound, meaning your home will have more of an echo.


As part of the initial curing process cracks will happen, however there are ways in disguising, filling, and sealing them to draw attention away. At Evoke all our homes are built on pre-stressed concrete slabs which are stronger and makes it less prone to cracks.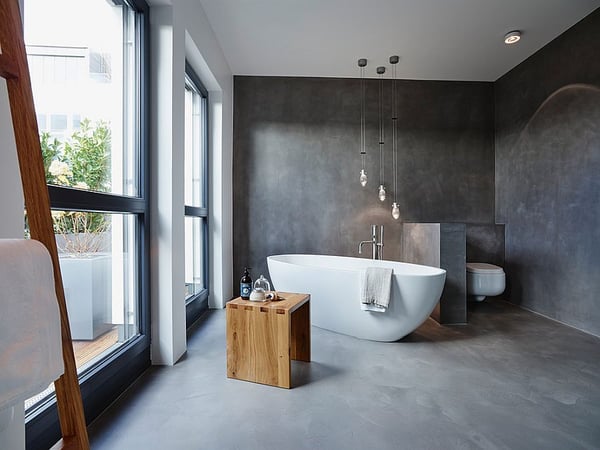 Polished concrete VS Epoxy:
Epoxy flooring may be worth the investment (depending on what you're into) as it provides more ability to customize and is more versatile. On the other hand, Polished concrete is more durable, slip-resistant and environmentally friendly.
Polished VS Burnished concrete:
Burnished concrete is achieved during the post-installation process. The biggest difference between polished and burnished concrete is the overall look. Burnished concrete has a smooth and harder surface whereas polished ends up looking shinier and sleeker. It is important to know the difference just in case you ask for one but meant for the other.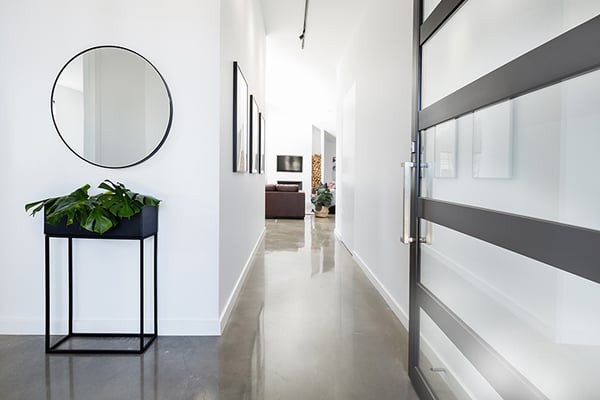 Polished concrete VS Terrazzo:
The biggest difference between polished concrete and terrazzo is the cement to aggregate ratio. Polished concrete contains more cement whereas terrazzo contains more aggregate. Terrazzo is also a more durable and decorative option., however can be more costly than polished concrete.
Polished concrete VS Tiles:
Concrete flooring requires no grout, giving you a sleeker look and is easier to maintain, however now days there are a lot more tile options that give you the sleek and grout-less appearance. All in all, concrete and tile flooring are quite similar when it comes to durability and longevity, leaving it all up to personal preference.
CONCLUSION
Polished concrete is one of the most versatile and luxurious floor finishes. There is a lot to love about this flooring option, from its luxurious look and feel to its low maintenance and durability. It is also great for adding value and a sense of elegance to your home.
GET IN TOUCH
If you would like to know more about upgrading to any of the above listed flooring options, email sales@elhomes.com.au or call us on 1300 138 653. Or to get the ball rolling on building your new modular home, visit our website.