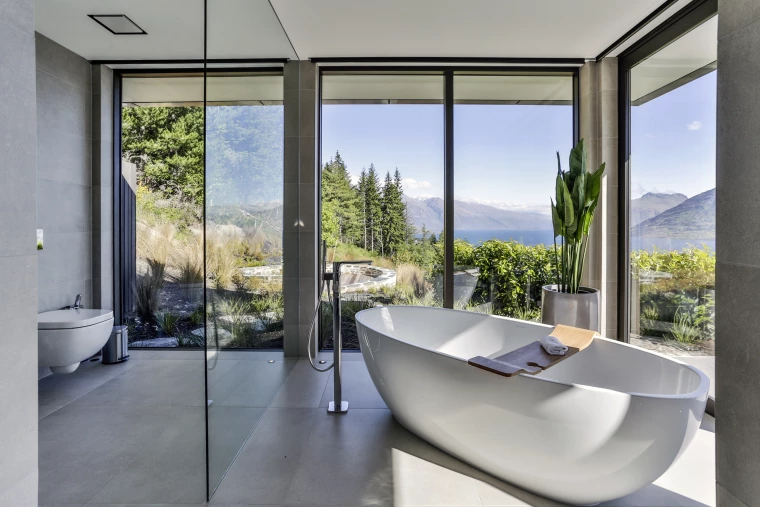 Modular Home Design Essentials: Bathrooms
17/08/2019
A well-designed bathroom is an important part of any new home. First and foremost, it's important to choose a layout that is practical and functional for you and and family's needs.
Along with this, as modern and stylish ideas for bathrooms gain popularity, bathroom features have become a popular upgrade for many new homes.
There are so many options when it comes to choosing the fitting and fixtures that add a touch of luxury, including tapware, vanities and tiles. Getting the balance between function and style is key - that's why we are sharing our top modular design tips for bathrooms.
WHAT IS THE PERFECT NUMBER?
Getting the ideal floor plan is one of the most important steps of building your modular home, and the number of bathrooms is a defining factor. If your budget allows, building a home with a shared bathroom plus ensuite can make life a lot easier, especially if you have a growing family. However if you are looking to keep the cost of building down, sticking with with a one bathroom design is a big cost-saver.
Or maybe if you're looking to build a holiday rental or you are catering for a large family, three bathrooms may be the way to go. All of our standard floor plans can be customised to include an extra bathroom if you need.
LAYOUT AND SIZE
Getting the layout of your bathroom right is a huge factor of the functionality of your house plan. And this depends on the space you have to work with and your lifestyle needs.
For example, for a couple in a smaller home, or for a weekender/Airbnb, a bathroom combined with a laundry is a great space saver (as seen in The Farmstay design), giving you extra floor space for living areas or storage.
However for families with children, you will need something with a bath and more space to move. For bigger families with children, a separate WC may be the answer to a lot of fights!
UPGRADES THAT ARE REALLY WORTH IT!
While all our bathrooms come with quality fittings as standard, there are a few areas where an upgrade can make all the difference!
One great example includes extending the wall tiles from our standard 200mm skirting (2m in shower recess) to half-height, or from floor-to-ceiling is another popular choice that can take your bathroom to the next level. Another example includes a freestanding bath.
There are a lot of stunning options when it comes to your vanity and basin, along with tapware and plumbing fittings too. It can take some time to find the right fittings that complement each other and reflect your style and tastes, which is why our pre-start consultant will work closely with you during the design phase to find the right fit.
LUXURY TOUCHES
If you are looking for design ideas that will really give your bathroom that serious wow factor, here is your inspiration:
Inspiration 1:
This stunning bathroom design is everything you could wish for! The full-height windows beside the freestanding bath takes advantage of the picturesque views.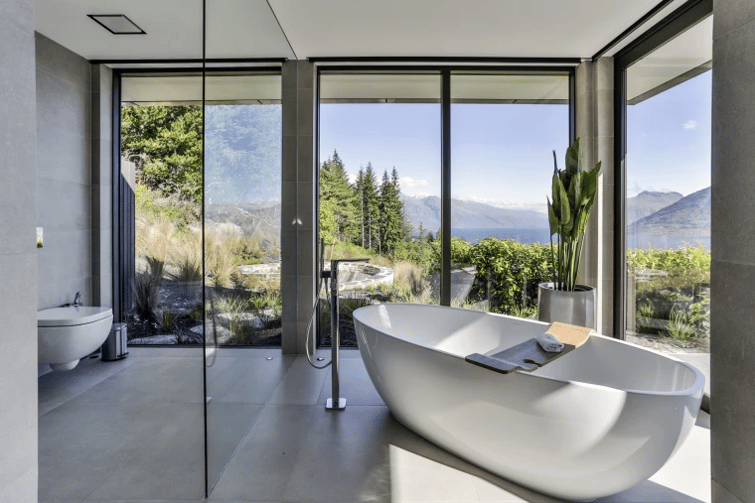 Inspiration 2: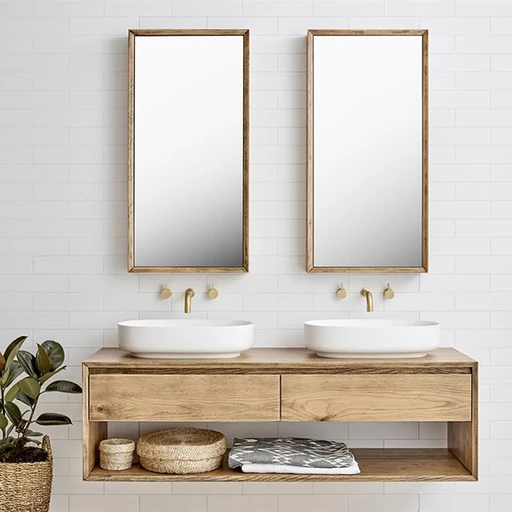 There is so much to love about this design! The combination of a timber vanity and timber feature mirrors is completed by the above counter basins, stylish tapware and subway tiles to create a fresh, modern look.
Inspiration 3: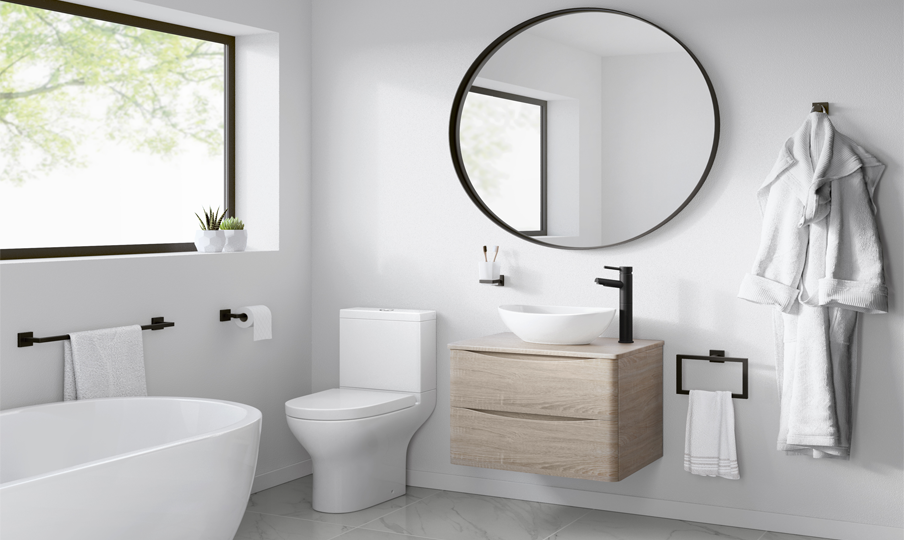 A simple but stunning design. The black tapware, light timber cabinet and fresh white colour scheme is completed perfectly, not to mention the round mirror!
MAKE IT YOUR OWN!
Bathroom design has come a long way, and there are so many ways that you can create a space that is both stylish and practical. From the layout to the endless options of fixtures, you can really make your bathroom stand out!
Do you have a question, or would you like to share a tip of your own? We'd love to hear from you - comment below or get in touch with our team on 1300 138 653.